New York City is home to some of the most extraordinary bookstores in the world. 
Whether you're an avid reader, a parent looking to nurture a love for reading in your littles, or simply in search of a magical literary adventure in the big city, these New York City bookstores have you covered. Why do we love them? They're enchanting, filled with stories for everyone and … you might even spot some Worldwide Buddies products on their shelves. :) 
📍4 locations
Imagine endless stacks upon stacks of books that you could get lost in for days. Welcome to Strand Book Store, one of the most well known spots in NYC. Strand carries over 2.5 million books on every imaginable genre, a delightful selection of new and vintage children's books and an assortment of literary goodies. Whether you're shopping for new gems or on the hunt for the perfect gift, this is your one-stop-shop for all your bookish desires.
Fun fact: When Stand opened its doors in 1927, it was part of what was known as "Book Row," which covered six city blocks and housed 48 bookstores.
Image source: https://www.strandbooks.com/  
📍42 West 17th Street, New York
Step into the enchanting world of Books of Wonder. This one's no ordinary bookstore – it's New York City's oldest and largest independent bookstore that
only
stocks children's books! No matter what kiddos (or kidults!) are looking for, from vintage classics and fairy tales to the latest releases and adventures across the globe, you'll be sure to find just the right book to spark your imagination.

A little tidbit: The store's original 18th street location was the model for the beloved bookstore in the popular film,"You've Got Mail," directed by longtime customer and friend of Books of Wonder, Nora Ephron!
📍36-19 30th Street, Astoria
Nestled in the heart of Queens is the charming Astoria Bookshop. Known for its cozy, welcoming atmosphere, you'll discover a diverse range of books, from bestsellers to unique specialties.They even have an assortment of family-friendly games, toys and bookish accessories. Keep your eyes peeled … you might spot our Minilingo Bilingual Flashcards!
Don't miss out: Astoria Bookshop holds a number of events including children's story time, adult and teen book clubs and author talks – many of which highlight local writers in Queens!
Image source: https://qns.com/ 
📍2 locations
A family-owned independent bookstore that lives up to its name, Books Are Magic is owned by well-known author, Emma Straub. This enchanting shop carries thoughtfully selected voices and stories, including a whimsical kids lit section. Plus, they frequently hold a number of readings and panels making it the perfect cozy nook for families, new readers and lifelong book enthusiasts.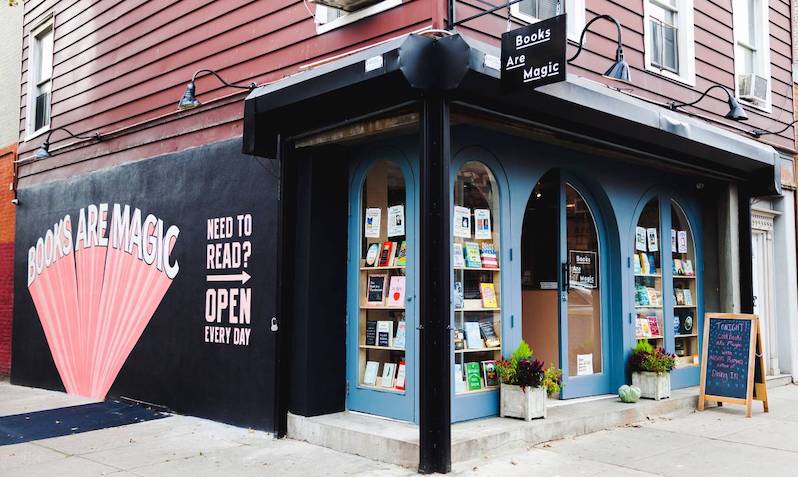 Don't forget: Before you leave, snap a photo in front of their iconic 'Books Are Magic' mural – the perfect way to end your visit!
Image source: https://lithub.com/ 
📍1073 6th Ave, New York
Embark on a captivating journey into Japanese culture at Kinokuniya! This unique spot spans three floors, each thoughtfully curated with a delightful selection of books, magazines and stationery directly imported from Japan. Their extensive collection includes both English and Japanese manga, graphic novels, cookbooks, children's books and much more. To make your visit even sweeter, stop by Kinokuniya's on-site café where you can savor the experience with Japanese tea, delectable sweets and onigiri (Japanese rice balls).
Did you know? The first Kinokuniya store opened in 1927 in the Shinjuku district of Tokyo with just 5 employees. Today they have over 80 stores worldwide!
Image source: https://usa.kinokuniya.com/